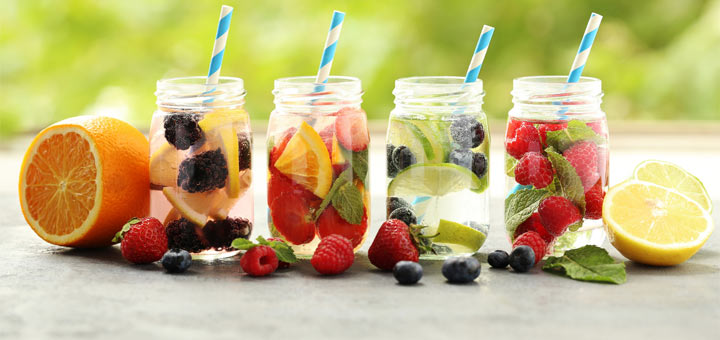 Five Detox Water you can count on
Detox Water – Strawberry and Rosemary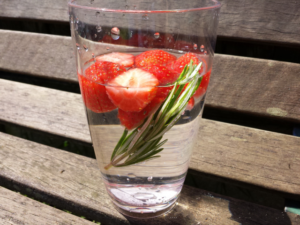 To make this simple, delicious and refreshing detox water you will need:
1 lt of water
3-4 Strawberries sliced
1 sprig of fresh Rosemary
Strawberries are high in fiber, help burn the stored fat, lower cardiovascular disease, contain potassium, vitamin K and magnesium so it is very good for your bones.
Rosemary- a good source of vitamin B6, iron and calcium, improve digestion, a rich source of antioxidants and inflammatory compounds, helps memory and concentration and can help to promote eye health.
Leave it 1 -2 hour in the fridge and try it after.
Detox water – Pomegranate, Raspberries, and Lemon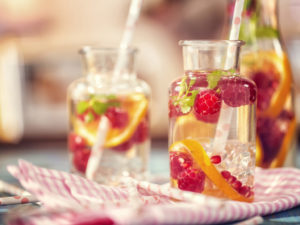 The purpose of this detox water to help you detox your body, get rid of all "poisonous substances" out of your body.
For this magical water you will need:
Natural water,
2 slices of lemon,
1/2 pomegranate,
about 7-10 raspberries
2 slices of kiwi
and obviously a jar
Detox water – Cucumber and Lemon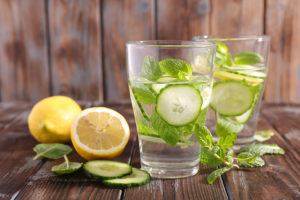 This is an easy, cheap but very effective way of purifying your body from the unwanted toxins. The water is accompanied simply by lemons slices, cucumber and mint leaves with "or without" ice cubes.
Detox water – Orange and Blueberries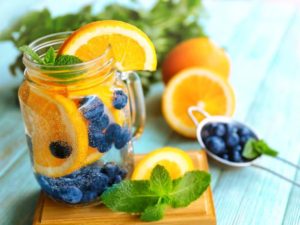 All you need is 2 big oranges which are good for your body because full of vitamins, fibers, minerals. They help lower the cholesterol, they are good for your eyes because full of Carotenoid and lower the risk of diseases (due to the vitamin C).
1/2 cup of blueberries, on the other hand, is full of antioxidants (one of most antioxidants food in the world), full of manganese crucial for the bones, full of fiber which helps lower the cholesterol and full of vitamin C (crucial for the immune system).
Detox water – Apple and Cinnamon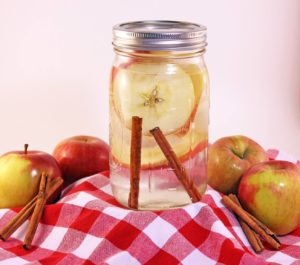 To make this detox water you will need:
Cinnamon (put only half teaspoon in 1 lt of water) – it regulates the blood sugar, so it is perfect for diabetics and hypoglycemic, it reduces the harmful cholesterol thus helping reduce the risk of cardiovascular disease, a lot of studies have discovered that cinnamon has been effective against ulcer, it is a natural food preservative and proven to be effective against menstrual pain.
Apple (put 4 slices of apple in 1 lt) – apple decreases your risk of diabetes, reduces cholesterol, helps for a healthier heart, detoxify your liver and helps your immune system.
To order your detox tea Easy Slim Tea click on the image below