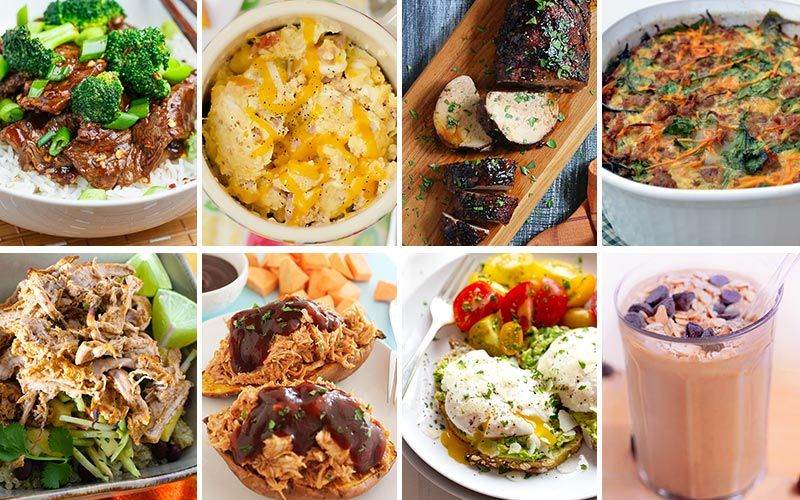 Simple Recipes for Muscle Building
If you are wondering how to include proteins, carbs, and fats in your food for muscle building, here are some simple recipes for muscle building for you to follow. Along with your muscle building workout regimen include these recipes or experiment on your own and you will see a difference in your physical appearance.
The benefits of including seafood in your diet are as diverse as the creative ways it can be prepared. Reducing cholesterol, improving sleep, and fighting Alzheimer's are just some of the many pluses of this heart-healthy, high-protein, low-fat food.
To give your recipes an extra burst of protein you can also include a scoop of your favorite protein powder.
Tuna and Avocado Salad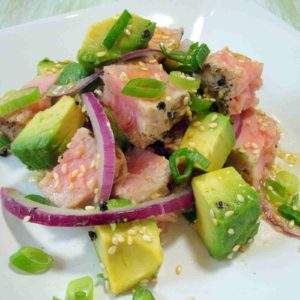 CALORIES 144, PROTEIN 16g, FAT 25g, CARBS 4g
Ingredients
12 oz. chunk light tuna in oil, drained
1 large avocado, diced
1 cup diced cucumber
½ cup thinly sliced red onion
¼ cup roasted pumpkin seeds, lightly salted
Juice of ½ lemons
1 tbsp. avocado oil
Sea salt
DIRECTIONS
Add tuna, avocado, cucumber, onion, and pumpkin seeds to a bowl and toss to combine. Add lemon juice, avocado oil, and sea salt to taste.
Serve with toasted pita, whole-wheat crackers, lettuce leaves, or simply as is.
Smoked Trout Spread infused with Lemon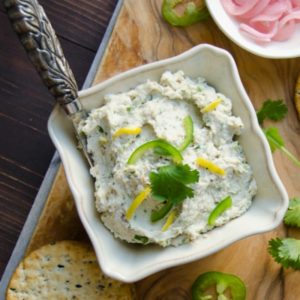 CALORIES 137, PROTEIN 7g, FAT 9g, CARBS 7g
Ingredients
3 oz. chèvre (goat cheese)
6 oz. cream cheese softened
2 tsp. lemon zest
1 tbsp. lemon juice
2 tbsp. chopped fresh chives
6 oz. smoked trout in olive oil drained and flaked (reserve oil for other use)
Sea salt
DIRECTIONS
By hand or with a mixer, blend the cheeses with lemon zest, lemon juice, and chives.
Gently fold in the smoked trout. Add sea salt to taste.
Chill in refrigerator for 15 minutes before serving
Shrimp Flatbread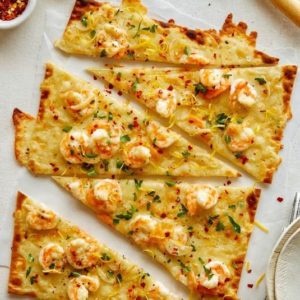 CALORIES 297, PROTEIN 35g, FAT 12g, CARBS 13g
Ingredients
2 lbs. shrimp, peeled, deveined, and sliced down the back
2 tbsp. olive oil, plus more for serving Garlic
Sea salt
Black pepper
6 store-bought flatbreads
3 cups shredded mozzarella cheese
1 cup canned tomatoes (or4–5fresh tomatoes, thinly sliced)
1 cup arugula
Red pepper flakes
DIRECTIONS
Preheat oven to 400°F.
Heat olive oil in a sauté́ pan over medium-high heat. Add shrimp and garlic, sea salt, and black pepper to taste. Sauté́ for about 4 minutes, until the shrimp are opaque in the center.
Dress each flatbread by adding a layer of cheese, tomatoes, and shrimp.
Bake flatbread in an oven for 5 to 6 minutes, until cheese, has melted.
Cut into slices and top with arugula, red pepper to taste, and a spritz of olive oil.
Peanut Butter, Chocolate, and Banana Oatmeal
Calories 590, Protein 21g, Fat 24g, Carbs 75g
Ingredients
¾ cup dry oats
¾ cup skim milk
2 tbsp. chunky peanut butter
1½ tbsp. dark chocolate chips
1 small banana, cut into slices
DIRECTIONS
Place oats, milk, peanut butter, and chocolate chips in a small microwave-safe bowl. Microwave on high for 90 seconds. Stir to blend.
Top with banana slices.
Cauliflower Fried Rice With Tofu or Paneer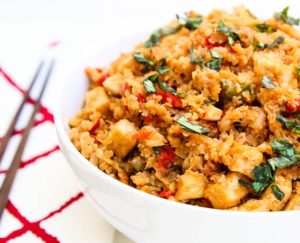 CALORIES 306, PROTEIN 13g, FAT 18g, CARBS 25g, FIBER 8g
Ingredients
1 small head of cauliflower (about 7 cups riced cauliflower)
2 tbsp. organic cornstarch
1 tbsp. paprika
1 tsp. garlic salt
8 oz. extra-firm tofu, cubed (or Paneer)
3 tbsp. coconut oil
¼ tsp. freshly ground black pepper
¼ cup unsalted almonds
½ cup chopped cilantro leaves and stems
¼ cup dried goji berries
DIRECTIONS
To rice the cauliflower, place florets in a food processor and roughly chop.
Place cornstarch, paprika, and ½ tsp. garlic salt on a plate and combine with a spoon. Toss tofu in a mixture to coat.
Warm 2 tbsp. coconut oil in a large skillet over medium heat. Add tofu and cook 6 to 8 minutes, turning occasionally, until crisp. Transfer to a plate.
Add remaining 1 tbsp. oil, cauliflower, remaining ½ tsp. garlic salt, and black pepper. Cook over medium heat 5 to 6 minutes, stirring occasionally until cauliflower starts to soften and brown.
Add almonds, cilantro, and berries and toss. Top with tofu.
In all the above muscle building recipes you can add Body Buildo Protein Supplement for extra protein intake.